New Features: Profile Picture, Publications and Reviews Improvements, and more.
Greetings from the Orvium team! It thrilled us to share the latest updates on our platform, designed to enhance your research experience. This month, we've added a series of new features that we believe will significantly improve the way you manage your research projects.
Whether you're a researcher or institutional administrator, we're confident that you'll find these updates beneficial. So without further ado, let's dive into the new features of the month and how they can help you achieve your research goals.
Profile Picture
Now you are able to personalize your profile picture, simply go to edit on your profile page and upload any photo you like (preferably with the marked measures), and just like that your profile will be updated (even in every publication you are an author or submitter).
Reviews Presentation
The review report is the new tab where you will be able to see a preview of the actual review main file, which will be auto-generated from de document (only with .docx files).
Publications Improvements
Now there is way simpler to know which version of the publication you are seeing and making easier the navigation between the different versions with just a click on the version you want to navigate.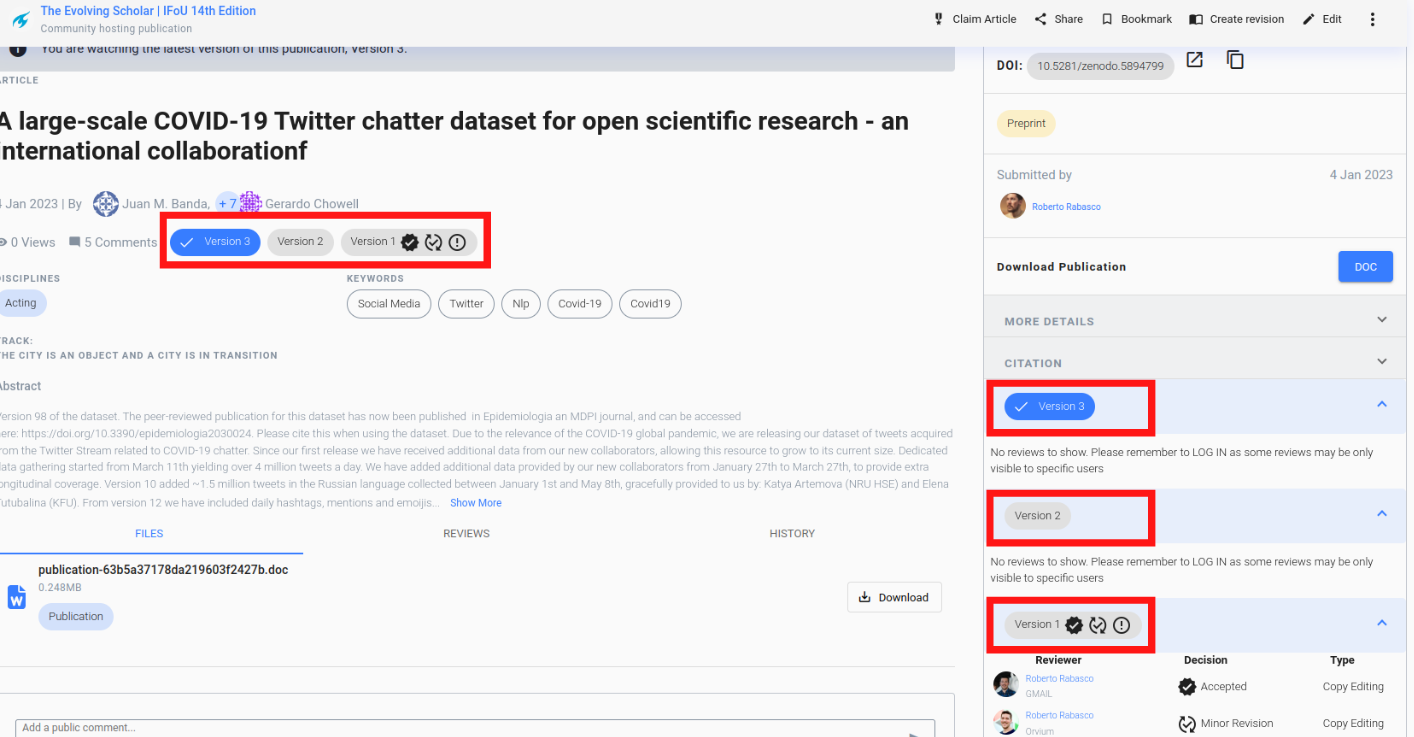 Following the publications, when you need to create or edit a publication, we added a big change. With the ''Optional Fields'' button, you can make the optional fields appear or disappear, making the process easier for you.
Also, more file extensions are available! We listened to our community and now you can upload .zip files, allowing you to choose any of those as permitted files for the community.
Last but not least, if you have a conference community, you can select an ''Editorial Decision'' for a publication, by choosing if the publication is a poster, publication, or none of those.
We hope you're as excited about these new updates as we are. Our team is constantly working to make Orvium the best platform for managing research projects, and these updates are just the beginning.
If you have any questions or feedback, please don't hesitate to reach out to us. We're always here to help.
Remember to stay connected with us on our social media channels (Twitter, Facebook, Linkedin, and Instagram) to stay up-to-date on the latest Orvium news and updates.