How to Publish in Google Scholar?
When searching for academic information or articles, there are several ways to do
it. You can use Internet search engines, but the results of this search may come
from unreliable sources; or you can approach virtual libraries or academic search
engines. Among all the academic search engines and databases that we can
currently find, Google Scholar stands out.
Google Scholar is a search engine specialized in academic documents, whether
they are articles, books, theses, etc. This documentation can come from different
sources, whether publishers, universities, or journals. Google Scholar works in a very similar way to Google's own search engine, performing a search in the search bar and displaying the results following an algorithm similar to the one used in the browser.
In this article, we will explain the steps to get your article published in Google Scholar, how to perform searches and the benefits of this academic search engine.
How Do I Publish My Article in Google Scholar?
First of all, you need to access Google Scholar and log in. Generally, like with the
Google browser, Google Scholar will log in with the email account that you have by
default in the search engine.

If you are using Google Scholar for the first time, My profile section will
appear at the top left. This section will look like this: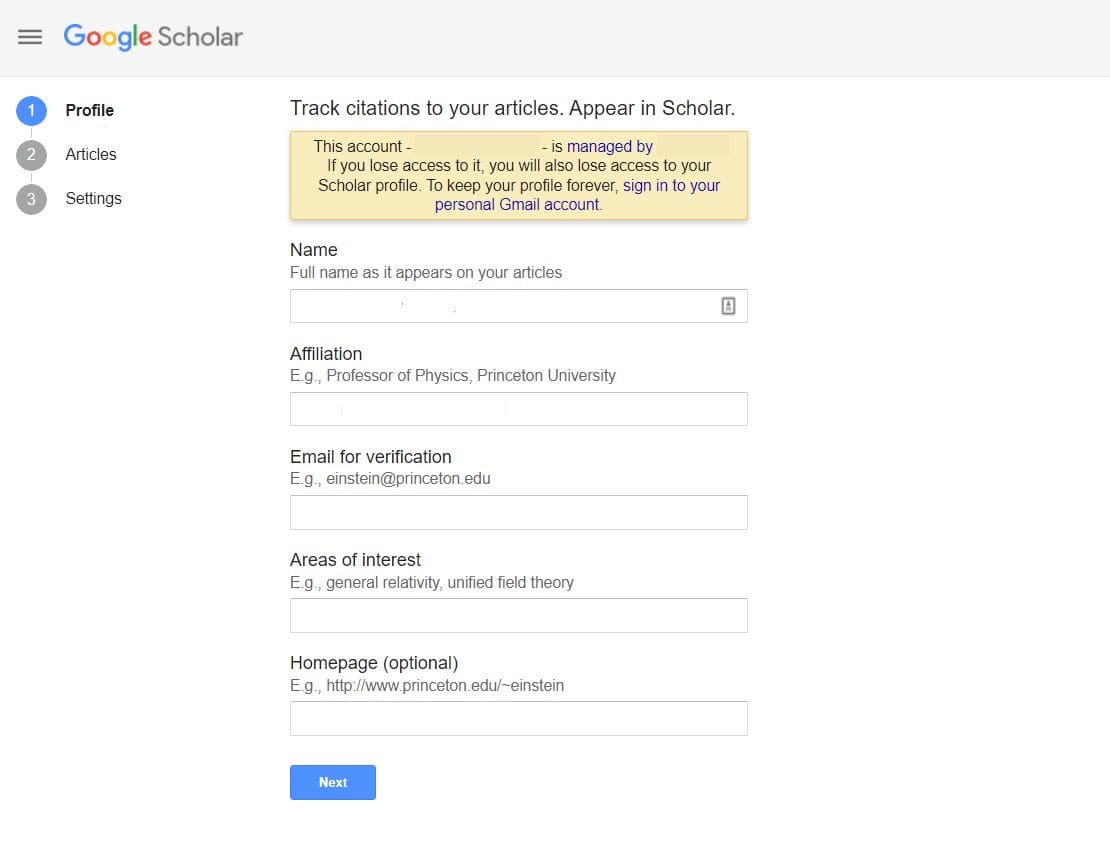 If you enter with your institution's email, Google will most likely give you a warning and recommend you enter a personal email, to ensure that you will always have access to your Scholar account. In the sections that appear you will be able to enter your institution's email if you want to.
Once you have filled in the required fields, you will arrive at a new section
where you will have the option to search for your academic articles, so that
you can easily add them to your profile.

You can select from the articles shown or search by a different name in the search bar above. It also allows you to search for articles individually or by groups of articles. To do this, select Groups or Articles at the top.
When you have selected your articles, you can move on to the next step,
where you will have the option of modifying some features regarding your account.
By following these steps, you will now be able to view your articles from your own
profile. Once here, you will also be able to modify your profile data, add a visible
photo and specify the fields you are interested in.
Add Articles Manually
To add publications that do not appear in Google Scholar, you can go to the add article manually option in your profile.
Once you have clicked here, a window will appear where you can enter the information to use as a bibliographic reference, as it is not possible to enter the whole article.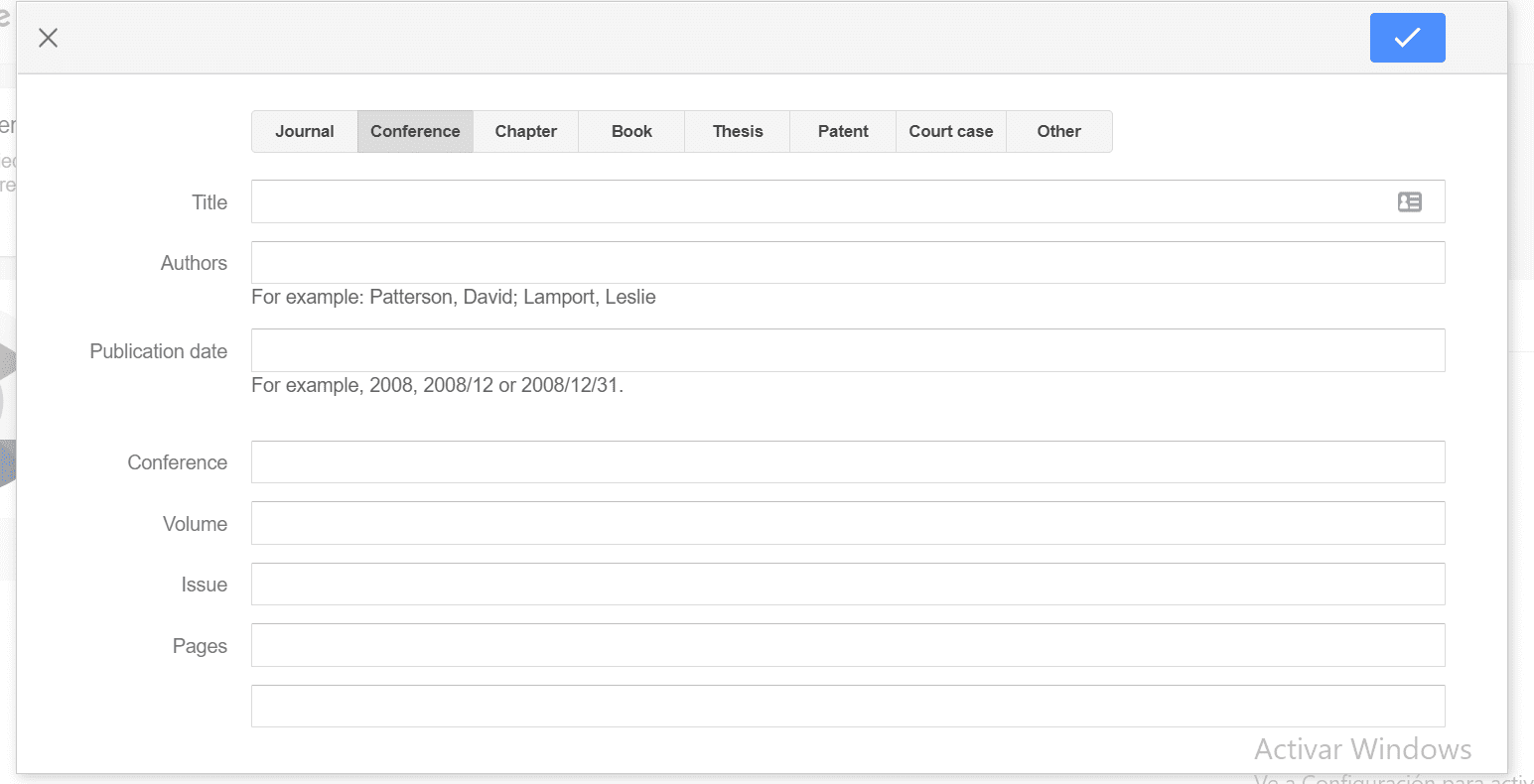 Tip: Be sure to keep your profile updated and confirm that the articles
displayed are yours and remove those that are not. In case any article is detected
that is not of your authorship, penalties may be applied.
How to Search in Google Scholar?
Similar to how the Google search engine works, Google Scholar has a search bar
to enter the terms you are interested in. Once you have entered them, a series of
results will appear, sorted in a similar way to how the browser's algorithm does.
In this search screen, you will see different options. In the left bar, you will have the option to filter the articles by year. You will also find the option to sort the articles by relevance or by date. In addition, like Google alerts, you will be able to create your own alerts, that will notify you in case there are new articles published on a specific topic that may be of your interest.
Under each article, you can also find several options:

Save: With this option, you can save the article in your own library to read it
later or to have quicker access in case you need to come back to it.
Cite: this option takes you to the section where you will be able to cite the specific article and in which format you want the citation. The options given are BibTex, EndNote, RefMan, and RefWorks. Right next to it, it also shows you the number of citations that the article you are consulting has and the access to
those same citations.
Related articles: related academic articles.
Versions: not all articles have this section. In case it does, it shows
you all the versions that can be found of the article.
Benefits of Google Scholar
Having explained how Google Scholar works, the question is: what
advantages can we extract from its use?
It allows you to search a wide variety of academic documentation, from scientific articles to theses, including conference papers. This gives you access to a wide range of information that can support your research.
When using a search engine, it allows us to enter the search terms of what we are looking for. Not only that, but it also allows us to find related material that may be useful with the search engine's own suggestions.
It shows us how many times an article has been cited (either our own or
someone else's) as well as where it has been cited and the citation style that
has been used for it. It can also be used to cite an article ourselves.
You can easily save articles for later access.
You can find documents in different languages.
It's a very complete tool to find Open Access documentation on the Internet, without necessarily having to search for it on a specific site.
Anyone can access this search engine and find articles on any academic
topic in which they may be interested, whether they are related to the
academic field or not.
Orvium Connects You to Google Scholar
Now that you know better what Google Scholar is and how it works, you can see
how important it is that your article is correctly indexed and that it shows up in this search engine easily. Google Scholar is a tool that promotes Open Access to different articles and helps your document to have more reach and visibility.
Therefore, at Orvium we are indexed with both Google Scholar and OpenAire,
ensuring that all articles displayed on our platform can be easily found in
this search engine.
If you want to know more about how we work, do not hesitate to visit our website
and get more information.