Tips for Writing a Conference Paper
When you attend a conference, it is not always easy to prepare the paper you want
to present. There are many factors to take into account, from the guidelines of
the conference itself, to the audience you are addressing, and how to present it.
Today we talk about what you can do to write your paper and we recommend a guide where you can find much more information and tips.
What is a Conference Paper?
A conference paper usually consists of two separate documents:
The written document, where you describe the totality of the work or the research that has been done
The oral, where you present the most important points of your work.
Therefore, the preparation of both parts must be different and distinguished.
Although the objective may be the same (show your ideas, your point of view or
your discovery) the way of approaching it may show certain differences.
Factors to Consider
Before you start writing your paper, there are a number of factors to consider:
Conference guidelines: To know what you can write about, check what topics and guidelines the conference has. This will help you target your topic.
Think about the problem you want to solve. Once you have selected what you are going to talk about, you need to focus on what problem you want to talk about and what objective or solutions you present.
What would you like your presentation to look like? Think about the most appropriate way to present your work, you have a variety of ways to choose from (panel, visual presentation, a combination of both).
Don't forget the summary: here you will collect everything that needs to be known about your work so that interested people can find out quickly, and it will also help the conference itself to organize the sessions.
Once you have clarified all these factors, you can start writing your paper.
Tip: While you are writing, never lose sight of the purpose and objective of your paper, and always remember who you want it to be aimed at and write it accordingly.
Once written, what should I do?
When you have finished writing your paper, don't forget:
Include citations and references in the proper format.
Perform a peer review. This will help you validate your work, enrich it and find errors and mistakes that you would have a harder time finding yourself. Don't forget that the writing process can be a long one and that we are all human and can miss some mistakes. Resorting to a review of your work helps to prevent this.
Create a script for your oral presentation. As we have said before, your written work is not the same as the oral presentation you make of it. Try to show the most important points of your work in a dynamic way and never forget the time you have to do it. If you have doubts about how to make your presentation, there are a lot of templates and examples that can give you ideas on how to do it.
Remember to rehearse your presentation as many times as necessary until you feel
confident with it. Don't be afraid to make changes if you think they will make your
presentation better and more appropriate for your audience.
Learn about the Complete Guide to Writing a Conference Paper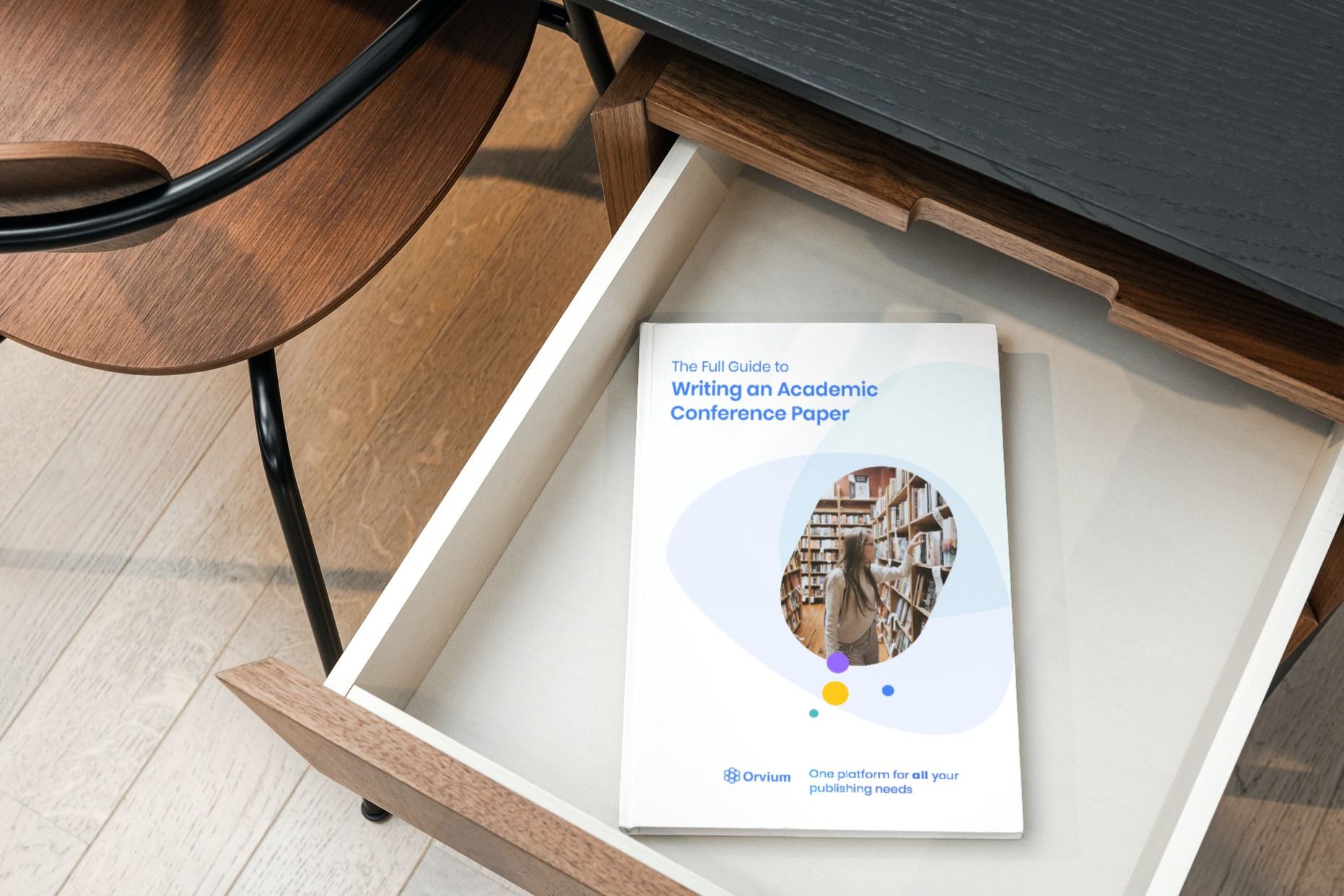 At Orvium we understand that it is not always easy to write a conference paper and that there can be many details and phases that can make this process much longer.
For this reason, we have prepared a complete guide where you will find all the phases to writing your paper, as well as a series of steps and tips that will help you to do it more comfortably.
Download our free guide by simply clicking on the button below.