Let's meet Orvium's founders
Most Blockchain startups fail only months after launch. Why? Because the teams don't have enough experience.
Fortunately for us though (and for you, our community), our rockstar 🎸 founders have plenty of experience, having worked for institutions such as CERN (European Organization for Nuclear Research), Fermilab (U.S. Dept. of Energy), and NASA.
However, no need to take our words for it! With this #MeetTheTeam series, we want you to get to know us better, so here are a few details about our founders (and a little back-story about how the Orvium project was born).
During the summer of 2017 🌴, we found ourselves amazed by this disruptive technology called Blockchain.
Like everyone else, we started to ask ourselves questions like "What benefits can Blockchain bring to our society?", "Can we use it to solve a global problem?", "What limitations does Blockchain have?". Having been required to write a few scientific papers on a number of occasions, inevitably, we stumbled upon the issues within the scholarly publishing industry. So we decided to use Blockchain to remodel this industry so that it won't impact the evolution of science in a negative way anymore.
Therefore, the question that set us apart from everyone else was "Do we want scientific publishers to keep having complete control over the content of their journals, abusing scientists' work, and profiting from the research we all fund?"
We've been thinking a lot about how we can change the scientific publishing industry, and after a few months, we launched Orvium — the first open source and decentralized framework for managing scholarly publications' life cycles and the associated data.
Whether you know everything about our project, or you are just passing by (Hi there! 👋), today we want to introduce to you the leading men behind the scene: Manuel Martin, Antonio Romero, and Roberto Rabasco. Since our team is spread all over Europe, we can also take this chance to do a little tour 🚌. Let's start from Geneva!
Manuel "The Globetrotter" Martin — Orvium's Senior Project Leader and Blockchain Expert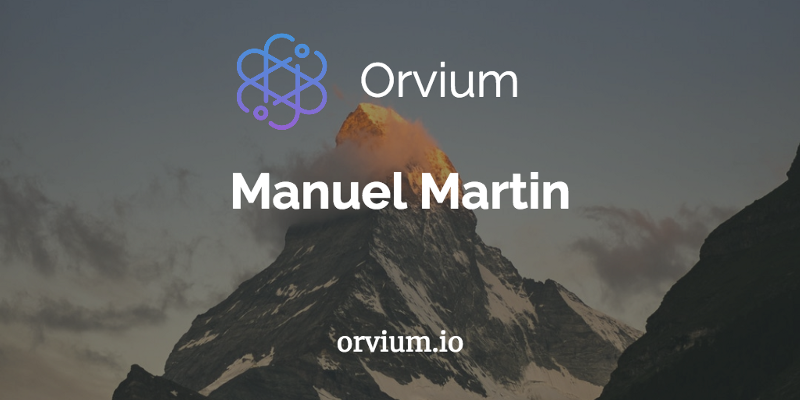 When he's not developing new use cases for Artificial Intelligence at CERN (European Organization for Nuclear Research), you can find him travelling around the globe with his better half. Manuel is a declared travel addict, but his passion and expertise are focused on supporting technological innovation.
As a senior data scientist-engineer passionate about Blockchain technologies, Manuel has led critical data management, big data, and machine learning initiatives for the largest and most complex scientific instrument ever built — CERN LHC.
Even more, he has worked with NASA-JPL, Fermilab (U.S. Dept. of Energy) and GSI among many others, has participated as a guest lecturer for the Executive program at ESADE Business School and has even advised large companies such as Oracle, BMW, Caixa, Gassco, Eni, and UPS.
But it's not all work and no fun! In his spare time, Manuel also plays soccer for CERN's team — he has mastered the art of emailing from the bench!
Moving from Geneva to Munich, it's time to introduce to you our next star.
Antonio "The Melophile" Romero — Orvium's Technological Solutions Architect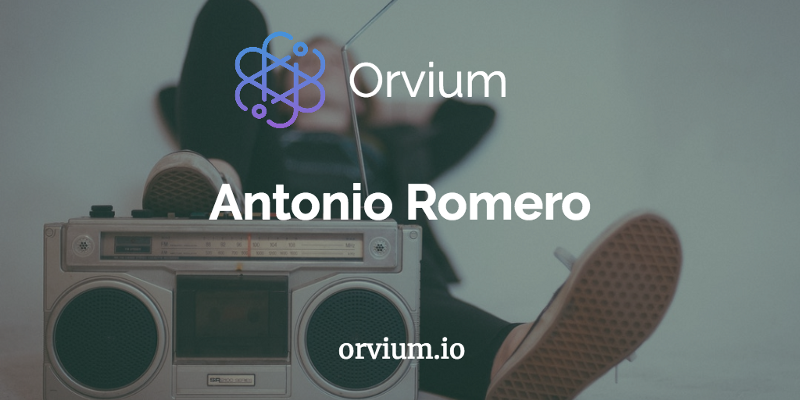 With his extensive experience, Antonio bridges the gap between our business problems and the technological solutions. Simply put, his job is to make sure that we use the best tech solutions among all possible to solve our challenges, so that you, our community, can benefit from the best version of our product!
Antonio joined the Volkswagen DATA:LAB in 2017 as a member of the Technology Team. He and his colleagues are in charge of developing cutting-edge software and infrastructure technologies that aim to support the scientific data activities developed in the lab. Their mission is to create innovative Artificial Intelligence products for Volkswagen.
Before joining Volkswagen, Antonio has also worked for 6 years at CERN where he led several big data and machine learning projects for the R&D partnership between CERN and multiple ICT market leaders. His work — accelerating cutting-edge predictive maintenance and machine learning solutions — has fuelled ground-breaking operations and optimizations at CERN accelerator complex. Antonio has worked with other institutions such as Fermilab, GSI, and EMBL-EBI as well.
Being a music aficionado, Antonio tries to go to as many good music festivals as possible with his friends and doesn't think twice about travelling. When we asked him if he preferred coffee or tea, he simply replied: "without a doubt, I am a coffee addict!"
And now, our last stop is London.
Roberto "Geeky" Rabasco — Orvium's Application and Cloud Technology Expert
Roberto is an expert in leading, designing, and developing high-availability software solutions. Born and raised in the northern regions of Spain, these days you can find him rubbing-shoulders with Londoners in the local pubs.
Roberto is passionate about developing innovative and creative technological solutions. So passionate that he built his own software house, BooleanCloud, back in 2016! He brings over a decade of experience to Orvium, across the private sector, having worked for international companies such as Deutsche Telekom, Just Eat or ASOS among others. In 2016 Roberto co-founded an app designed to help people reduce household food waste.
Roberto is always upbeat and full of enthusiasm, loves sci-fi movies (no matter how bad they are — can you believe it?), cycling, and the Spanish cuisine (especially the famous "tortilla de patatas" from "El txiki" his favourite hometown bar).
That's about it for today. We would also like to get to know you better, so don't be shy and come to join us on: Facebook, Twitter, Instagram, LinkedIn, Youtube, BitcoinTalk, or Reddit.
Talk to you soon! 🖐️