How to Cite an Academic Article
When you are writing your research paper, there are a lot of tasks to pay attention to. How to structure your paper, how to title it, and how to write the abstract, are all very important parts. This also includes the citation.
If you have questions about how to cite, and what are the citation types out there, this post is for you! We explain here how to cite properly. In addition, we tell you how you can generate your cite link automatically with Orvium.
What is "to Cite" an Academic Article?
When you are developing research, citing refers to mentioning those works that have helped you develop your own work, or that have served as a reference throughout your research. This will help readers better understand how you have conducted your research and will give reliability to your work.
When Should You Make a Citation?
As long as an outside source is mentioned in your academic work, it will be necessary to cite that source. This will help:
Avoid accusations of plagiarism for citing another article or for not mentioning the source of the citation.
Give credit to the original author of the source.
Allow the readers to consult the sources himself/herself, providing the origin of the source.
It is important when making citations that you include in them all types of material from the source. This includes videos or conferences, not just magazines, articles, or books.
What Style of Citation should I use?
As we mentioned at the beginning, there are different citation styles. Most of the time, the institution or journal in which you publish will indicate the citation style you should use, although sometimes the decision will be up to you.
The most common styles you will find are:
APA, emerged with the idea of unifying the citation style. Initially used in the
field of social and behavioral sciences, it is currently the most widespread style
in several different types of academic disciplines.
MLA, is the most common for citations in the fields of linguistics and humanities.
The Chicago style has two basic documentation systems:
a) the system of notes and bibliography
b) the author-date system, most commonly used by authors in the areas of physical, natural, and social sciences
The notes and bibliography style is more commonly used for the humanities (literature, history, and art) while the author-date system, as we have already mentioned above, it is more used by authors from science areas, both in physics and natural and social sciences.
APA and MLA formats
Since these are the two most commonly used citation formats, we will discuss in more depth how citation works in both styles, as well as the main differences between the two styles.
How to Cite in APA Style?
To make a citation in APA format, you must take into account the following structure: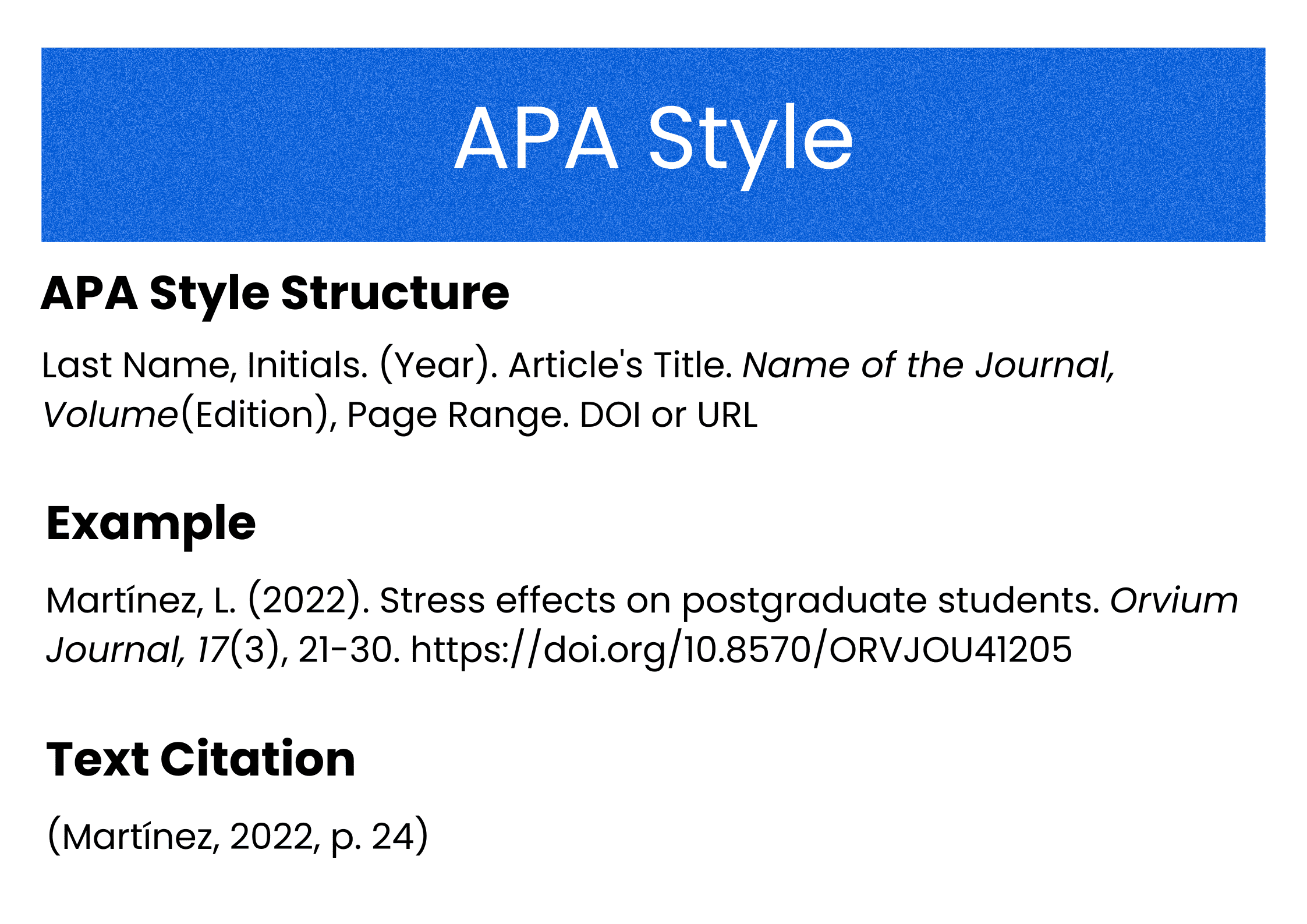 How to cite in MLA format?
To cite in MLA format you can follow the next structure:
Main Differences Between APA and MLA
This table shows the most notable differences between APA and MLA styles.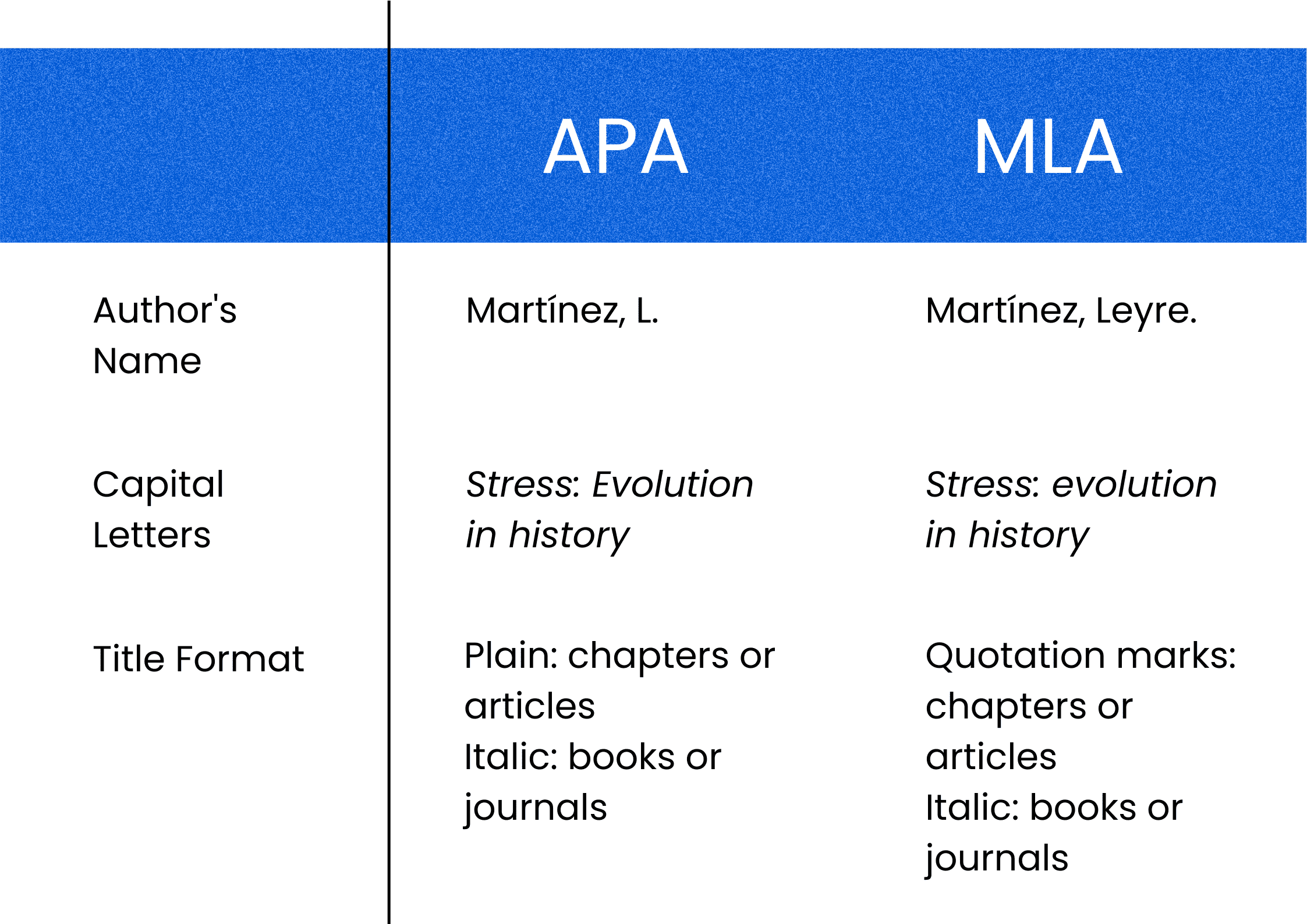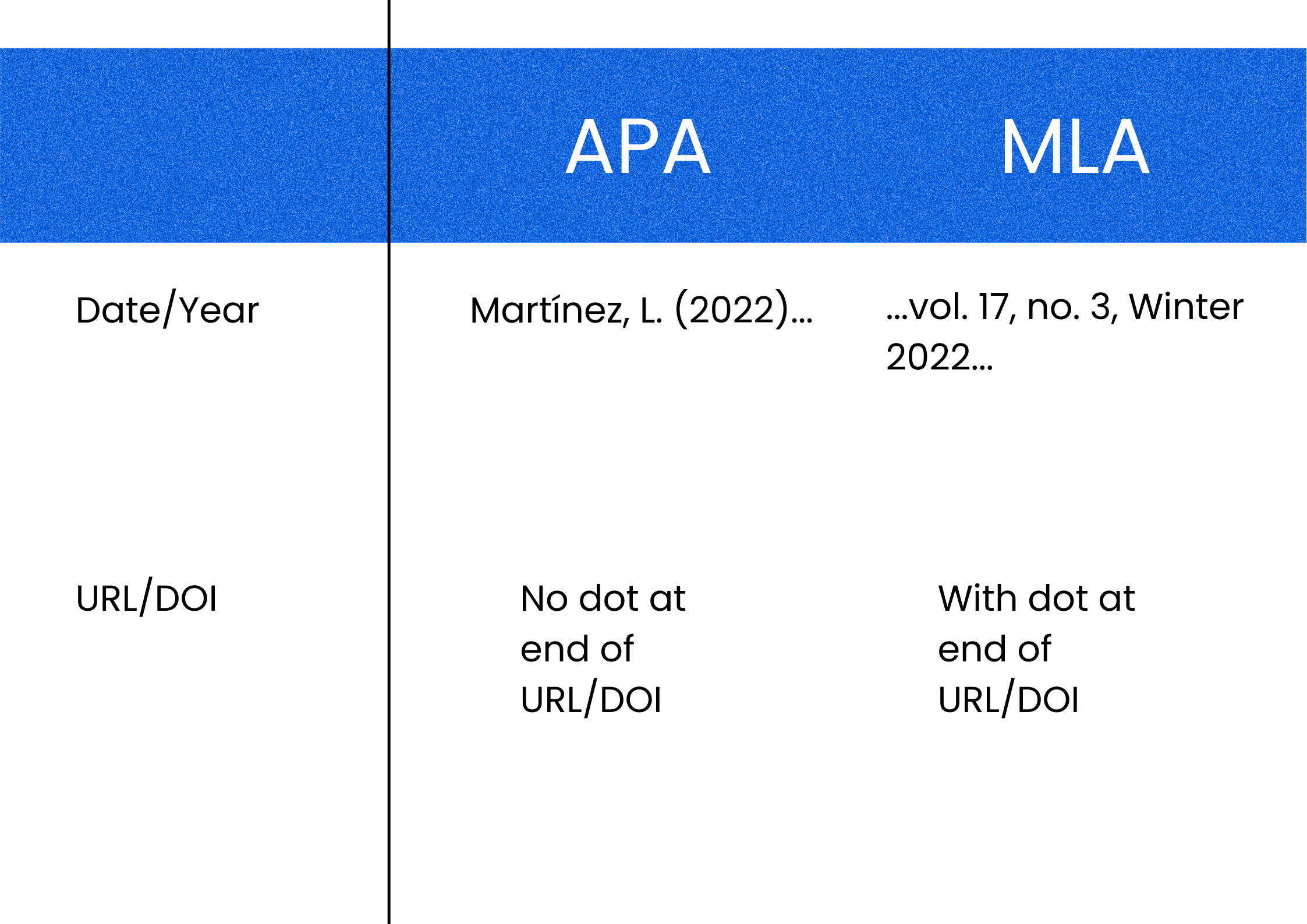 Remember: wherever you publish, they will usually tell you which style is allowed in their publications. If in doubt, always try to stick to the style you feel is most applicable to your subject matter.
At Orvium we make Citation Easy
With Orvium you can automatically generate the citation link of your articles. Once uploaded your work the system will create this citation link for you and it will display it in the publication view. Check it out within any of our articles, you have available the option to copy directly the citation that refers to the article. To do so, go to the Citation section and click on the copy option.

You can try it yourself in the following article: https://dapp.orvium.io/deposits/620f68305d583d481a24ddbf/view
Register on our platform and start enjoying all the advantages we offer to publish your articles.