What Are Conference Proceedings?
Updated February 18, 2022
Meetings (whether in-person or virtual) are important for communicating and exchanging ideas, methodologies, views, and opinions. Science is constantly evolving and progressing, and we need to find new ways to keep up with it and make it easily accessible for everyone. In this article, we will highlight how easy it is to achieve this with conference proceedings.
We will discuss what conference proceedings are, their advantages and disadvantages, how they compare to journals, and Open Access options.
What are Conference Proceedings?
A conference is an event where researchers, scholars, professors, and academicians gather to discuss research and developments in a particular field. A conference proceeding is a published record of a conference, symposium, congress, or any other meeting. It sometimes includes reports or abstracts of papers presented by the participants.
What Is the Purpose of Conference Proceedings?
Conferences allow people to present their research and receive feedback (on the spot) from other researchers and colleagues in their field. Proceedings can help you discover who is researching a topic and what is being researched in a particular field. There are multiple reasons to hold proceedings and below you'll find a few:
Engage with cutting-edge research - meetings may include innovations, findings, best practices, or new methodology in engineering or science.
Informally present research - meetings allow researchers to explain their findings in a less formal setting than in a peer-reviewed journal.
Connect - if you are new to a field of study, proceedings can help connect you with the correct tools, research teams, or institutions conducting research in your particular area of interest.
Open Access Conference Proceedings
Sometimes, journals can publish proceedings as well. However, this isn't mandatory and depends on the particular journal or the individual researcher. Below you'll find some OA platforms or repositories that publish conference proceedings (they also include access to journals):
Clausius Scientific Press (CSP) - a repository of articles from books, journals, workshops, and conferences in different scientific fields. They are professionally indexed and archived, and freely available to all. Additionally, they can help researchers locate high-quality journals interested in publishing extended versions of selected papers.
Web of Conferences - an OA platform that provides conference organizers with a selection of OA journals from diverse scientific fields to publish conference proceedings. These journals guarantee maximum indexing of conference papers and high visibility.
Diamond Scientific Publishing - an international online publishing house that publishes academic journals, books, and conference proceedings. Each one undergoes a rigorous double-blind peer-review process to ensure quality for everything published.
Conferences vs. Journals - Which Ones Do You Prefer?
Conference proceedings highlight cutting-edge research by revealing emerging trends and new ideas before they appear in journals. Conferences and other professional meetings have their particular benefits as they allow other researchers to influence and get involved in the early stages of research.
To aid you in choosing one or the other, we've made a list of things you should pay attention to:
Are you considering a conference?
Submitted conference papers are reviewed promptly, and authors receive their acceptance or rejection letters at the same time.
Conference papers are generally concise, with a limit on the number of pages allowed.
Conferences are more timely. Sometimes, it can take years for a journal to get published or for reviews to come back; for a conference talk, the reviews are back within a few months, and the proceedings follow soon after.
Depending on the discipline, conferences are usually of higher quality because of the standard of novelty compared to a journal. Conference organizing committees want to have the most recent, novel, and exciting news presented.
Are you considering a journal?
The amount of time needed for publishing is very flexible.
Journals may have longer page limits. If, for example, there are many experimental results or proofs that are long and don't fit in a conference publication, a journal allows for the inclusion of these.
The peer-review process is much more meticulous and detailed than conference revisions, but it takes a longer time. Depending on the publication, the journal may not even have a fixed revision period, and it may stay open until the paper is ready.
Journals allow for revision of work and resubmission for review. Some conferences have this option as well.
Journals have higher acceptance rates, giving researchers more of an opportunity to get their research published. Conferences can become exclusive, especially in the field of software engineering, for example.
The Advantages and Disadvantages of Conference Proceedings
To reap all of the benefits a conference has to offer, researchers must be careful which conferences they choose to attend. If they attend too many low-quality conferences, they risk having their otherwise excellent work seem less professional and may appear incapable of providing quality work in the future. Below are some advantages and disadvantages of attending conferences:
A good resource to consider for past and future scientific conferences is SciTech Central. SciTech is an international platform that allows the scientific community from various fields to get their research work showcased. Attendees for the conferences and events can make new business connections and acquire knowledge that will potentially improve the benefits of their participation in the event.
Summing Up
Whether you choose to prepare a conference talk or a journal paper or simply attend a conference, you are on the right track. Not only are you learning from the academic and scientific community, but you are also actively and positively contributing to it, and this could be the reason why advancement in a particular field is made.
Orvium knows all about scientific advancement. We have you covered, especially with journal publications. You can share, publish, review, and manage your research, all on an open platform. Are you looking to get your proceedings published in a journal? You can join for free today. Also, make sure to check out our blog if you haven't already to stay up to date with news from the Open Access community.
If you are planning a Conference, we have a new Guide for you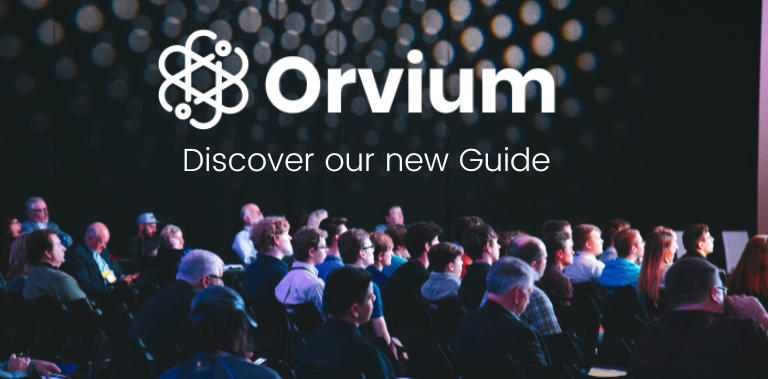 In addition, if you are currently preparing a conference or are planning to do so in the future, Orvium has prepared the Full Guide to Planning an Academic Conference. This guide shows you the steps to follow and what you need to take into account to make your conference a success.
To download the guide just click on the button below, fill in a simple form, and you will receive the guide in your email.