Publish Or Perish | The Uncertainty Of Publishing In Academic Journals
Updated June 9th, 2022
Knowledge sharing is vital in the research community. However, imagine your career depends heavily on a process that takes a long time and can keep you waiting for up to six months to publish. That process, known as "publish or perish" (publishing in as many journals as possible), can become discouraging for authors and an impediment to furthering knowledge in various fields.
Because of this process, academicians and researchers alike struggle to publish good works in reputable journals. Find out about the pressures of publishing and why the process is slow in this article. In the end, you'll see how Orvium combats the pressures and challenges of publishing.
The Pressure of Publishing in the Academic World
The term "publish or perish" is well known to academics. It refers to the pressure to continually publish original research to progress in your career. Sometimes, it's even a requirement at some universities to keep a job. Unfortunately, academic and research institutions can use publishing rates to decide who will be granted a permanent position.
As you can imagine, the pressure to publish can be very high. Unfortunately, getting published is becoming very difficult. Researchers have to wait several months or even years to see their work published. It is not surprising that publication delay is the top concern for authors.
Why is the Process Slow?
Science is part of our daily lives, constantly improving the way we live, communicate, and work. That's why it's important to have a quality control system in scientific literature. This quality control system is called peer review. Reviewers and editors work hard to ensure that only legitimate research is published. But the workflow is not efficient and can cause significant publication delays.
One of the main problems is that publishers struggle to find reviewers. Publishers receive more and more papers each year, but it's becoming challenging to find the right reviewers. In fact, 75% of journal editors say that finding reviewers and getting them to accept review invitations is the hardest part of their job.
There are multiple reasons for this, but a key one is the lack of incentives for reviewers. Most reviewers agree that greater recognition and career incentives to peer review would positively impact the overall efficacy of the peer-review process. But what about economic incentives? While some scientific publishers routinely report profit margins approaching 40% on their operations, financial incentives for reviewers are extremely rare.
---

Connecting with Trusted Reviewers Through Orvium
Orvium is the web platform that connects researchers and publishers with trusted reviewers to accelerate publishing with a fair and incentivized peer review. By becoming a peer reviewer, you can:
Reduce publication time: By establishing direct access to a verified community of reviewers, presenting flexible mechanisms to incentivize researchers, and providing easy-to-use tools to manage all the process.
Increase quality and transparency: By keeping track of all the activity that happens in the paper and the publication life-cycle. We use blockchain technologies to establish an independent, decentralized and immutable time-stamped proof of what is happening in the publication process.
Incentivize reviewers: By doing peer reviews and increasing your reputation you will start gaining more privileges and rewards on the platform. We have several reputation levels to define some unique things that you could do in Orvium.
How Does It Work?
Good news! Academicians and researchers can submit their papers to Orvium and send them to peer review through our platform. Additionally, our platform also works with blockchain, and it's possible to proof stamp your work in the blockchain and incentivize reviewers with tokens.
Learn more on our website.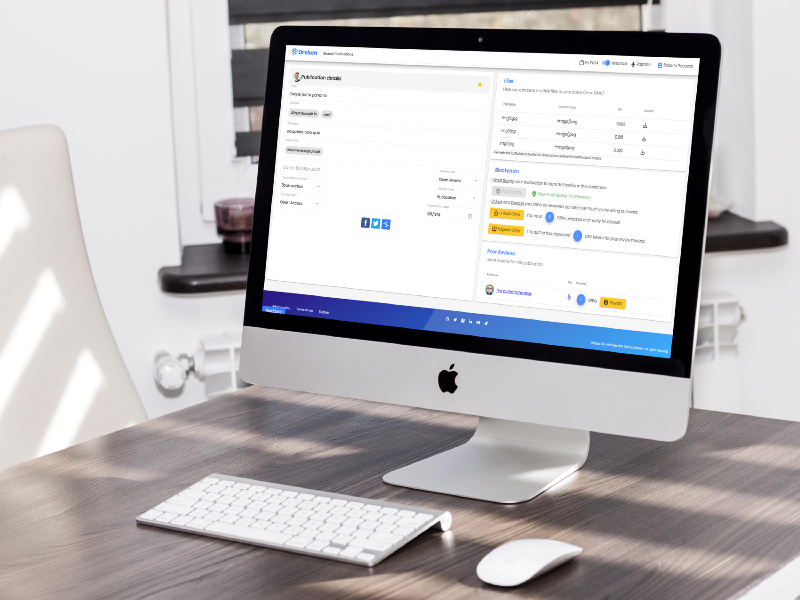 About us
Manuel Martin, Antonio Romero, and Roberto Rabasco are the founding team behind Orvium. Together they have 20 years of experience working in research for CERN, one of the largest research laboratories in the world, and many years working for leading technology companies like Volkswagen, Just Eat and ASOS.